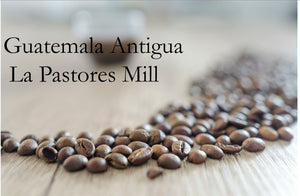 The Beneficio Pastores mill was built in the late 1800's as a flour mill. It was not until the early 20th century, that Pastores began milling coffee.

In Antigua perfectly ripe beans are carefully handpicked and delivered to Pastores mill. Here the careful process of preparing the perfect coffee continues: depulping and a very precise 100% natural fermentation are the first steps. Coffee is then fully washed using fresh spring water and completely sun dried under the radiant Guatemalan sun.
Antigua Pastores coffees are always freshly milled - only about 2 weeks prior to shipment. The beans are hand-sorted by more than 100 women with vast experience in this "art", before being bagged for export.
Region
: Antigua
Producer
:Various small producers La Pastores Mill
Altitude
: 1,600+ meters ASL
Varieties
: Bourbon, Caturra, Arabigo
Processing
: Washed
Flavor: Chocolate, Caramel, Pecan, Herb-like
Body: Medium
Aroma: Honey, nutty
Acidity: Medium
<