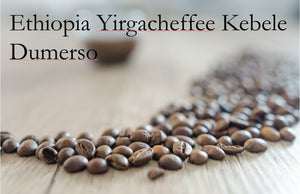 This coffee comes from Dumerso. In Dumerso, coffee is the primary industry. More than 90% of the people in the region are involved in coffee business. Thus, coffee is the dominant source of income for the majority of smallholder farmers in the region. To these growers, coffee is everything, i.e. coffee sends their children to school, coffee buys medication, etc. As such, coffee receives the best care and attention.
Hirut Berhanu has been involved in the coffee trade for the last 15 years. She worked in the Ethiopian commodity exchange as a coffee trader and in 2010 she bought the Dumerso station from the government. The mill was originally established in 1998, but it was not operational at the time of acquisition. In 2013, Hirut re-opened the mill and began processing coffee.
CUP PROFILE
A a clean cup, bright acidity and floral notes. Find lively flavors of citrus, jasmine and cane sugar.
Region: Region Yirgacheffe Gedio zone Kebele Dumerso
Producer: Hirut Berhanu
Altitude: 1,960 meters ASL
Varieties: Heirloom
Processing: Fully washed
Flavor: Citrus, Floral, Cane Sugar, Jasmine
Body: Light
Acidity: Bright
<